Engineering Results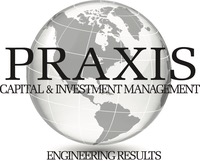 Praxis Capital and Investment Management was formed to provide our clients with a centralized, sophisticated and dedicated team for their financial needs. Whether the client is an individual family or institution, both require a client-centric and client-motivated team that delivers results. Results that are driven solely by the clients specific goals and objectives.
Praxis, by definition, is the process by which a theory, lesson, or skill is enacted, embodied or realized.
Our Principals posses decades of experience working with large Wall Street based firms, while enduring the dis-connect of the "mega firm" and their clients. This ultimately drove our Team to the development of Praxis. Praxis serves as the reality by which this company was formed. Our services and capabilities provide clients with the full service resources they deserve. A sophisticated, personally dedicated and attentive boutique that Engineers Results.
Praxis and their clients have deep rooted relationships that are built on:
Confidence, Trust, Honor, Integrity, and Results
...none, of which, are compromised.
Only Together, Do We Make a Difference.